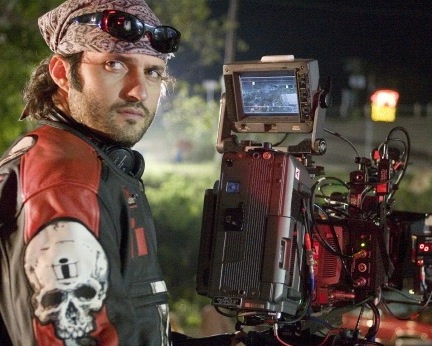 My man

SAMAX AMEN

over at

GHETTOMANGA

dropped this little tidbit, and being a huge fan of the

faux trailer

from

GRINDHOUSE

, I couldn't help myself! Robert Rodriguez has begun pre-production on

MACHETE

,

the tale of an ex-federale on a mission of revenge of the men that double-crossed him

, with a definite shooting schedule set to begin at the end of the month! This is a geek glory moment here--- as many fans attest--- that a mock trailer can conjure up such excitement and curiousity ( I mean, there are drawbacks to that theory... Remember

SNAKES ON A PLANE

?) . Anyways, there's more to Robert's madness than grindhouse flair... After the battle with Universal over the future of

BARBARELLA

, he's sharing his directing duties with his editor so he can focus his primary attention on a sci-fi actioner known as

NERVERACKER

, in which agent

JOE TEZCA

squares off with rampaging creatures (hence the title) in a future-perfect society (as long as Rob can one-up

DEMOLITION MAN

, this should be good!)... Release is set for

April 10th

of next year. Afterwards, Rodriguez will re-envision yet another sci-fi classic,

PREDATORS!


Of course, the verdict is still out on whether he'll commit to the one-two punch of producing the new

CONAN

film, as well as beginning production on the long-awaited

RED SONJA

... 2010 will definitely be the year of Robert Rodriguez , it's just a shame that we'll have to wait so long...