THE IMAGINARIUM

... A traveling fantasy show that offers its audience a glimpse into the light and darkness of the human imagination. It's impresario,

DR. PARNASSUS (CHRISTOPHER PLUMMER)

, utilizes his extraordinary gifts while dealing with his own dark curse--- you see, Dr. Parnassus struck a bet with the devil,

MR. NICK (TOM WAITS)

, in which he won immortality... Centuries later, Dr. Parnassus would return to Mr. Nick, offering to exchange his immortality for youth. The condition for such an offer would be giving up his first-born daughter, Valentina

(LILY COLE)

, to Mr. Nick upon her 16th birthday.

Fast forward.

Dr. Parnassus awaits the coming of Mr. Nick, desperate to protect Valentina from her fate. Mr. Nick, always game for a deal, renegotiates the wager. The winner for Valentina will now be determined by the one who can seduce the first five souls. Furthermore, Dr. Parnassus offers his daughter's hand in marriage to the man that helps him win... A wager that introduces the mysterious Anthony

(HEATH LEDGER)

into what will become a wildly surreal adventure in surviving the imaginarium and a race against time to undo the mistakes of the past once and for all.
Upon the death of Heath Ledger, it seemed that the curse of failed productions would yet again loom over the head of writer/director

TERRY GILLIAM

, who suffered numerous setbacks with other shows

(the most infamous of which being the legendary Depp vehicle DON QUIXOTE)

. Unwilling to give up on the film, Gilliam rewrote the script structure and enlisted the help of Heath's friends,

JOHNNY DEPP, JUDE LAW, and COLIN FERRELL

, to help him realize the last onscreen performance of Ledger. As the character of Anthony enters the Imaginarium, he would take on a different visual appearance of himself with each world he passes through. In a word:

Genius.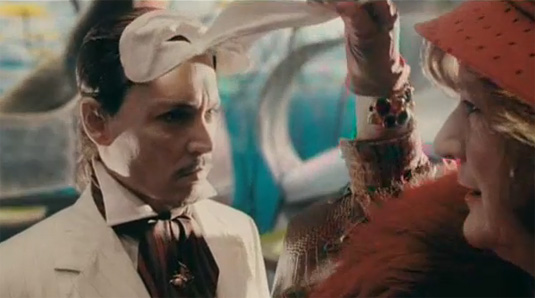 With the completion of the film, Terry Gilliam would at long last have his vindication as a director who never compromised his artistic visions

(his battles with Hollywood have been long suffering, yet artistically brilliant)

--- from

BRAZIL and THE ADVENTURES OF BARON MUCHAUSEN

, to

THE FISHER KING and 12 MONKEYS

--- and a creator who may have the last laugh after all, as Hollywood has given Gilliam the green light to return to La Mancha and complete

DON QUIXOTE

.



THE IMAGINARIUM OF DR. PARNASSUS

opens Christmas day.