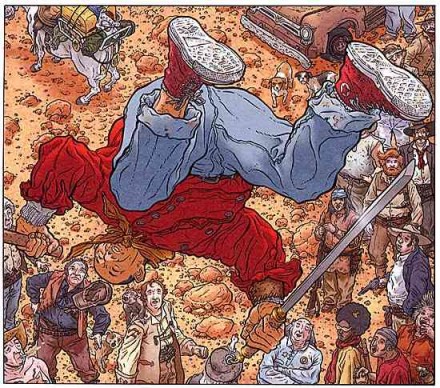 A mysterious, former monk-with-no-name travels the barren wastelands of the earth with a bounty on his head, accompanied by a talking mule named Lord Evelyn Dunkirk Winniferd Esquire the 3rd. A bizarre cast of characters pervades the weird visual world of THE SHAOLIN COWBOY.




GEOFF DARROW

, co-creator of

BIG GUY and RUSTY THE BOY ROBOT

and

HARD BOILED

(along with Frank Miller), as well as the conceptual designer of the

MATRIX trilogy

for the

WACHOWSKI BROTHERS

, has finally announced that he will co-direct

SHAOLIN COWBOY

as a

traditional animated feature

along with a soon-to-be-named Japanese director. While he says the film will remain truthful to his highly detailed style

(i.e. trash-strewn, corporate labels everywhere, etc.)

, the real draw of the announcement lies in his decision to go with

traditional, hand-drawn animation versus the current trend of CGI

. As a fan of his style, I champion the idea that old school is not dead, and that despite the incredible advances of digital animation,

it only works when real talent is the motivation behind the tech.



Of course, realizing how long it takes for Geoff to illustrate a page, one can only hope that it doesn't take twice that to animate.