My grandfather was a Johnny Cash fan when I was a kid. My granddad used to say,

"Whenever you want to listen to a born storyteller, you listen to the Man in Black".

Once I heard it for myself, I understood that meant. Visual storytelling through sound was Johnny's forte that still stands to this day. For German artist

REINHARD KLEIST

, it was a no-brainer... One born storyteller telling the tale of the other.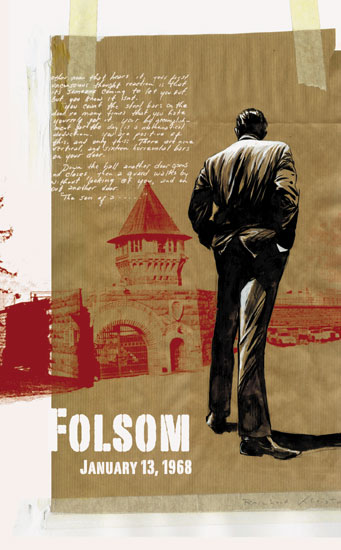 JOHNNY CASH: I SEE A DARKNESS OGN, which has already won numerous international awards, including the Max Und Mortiz award (Germany's equivalent of the Eisner award here), has now arrived here in an english version available through ABRAMS COMICARTS, and features the life of Cash from childhood to the infamous concert held at Folsom Prison, which cemented his legacy and stands as the centerpiece of this book.

This book is a prime example of why I love the storytelling medium. Kleist uses the prison sequence as a parallel to the singer's own tribulations in life. From the hard partying to the drug-induced hazes between performances; the physical, chemical, and emotional walls built up around Cash's life was something the late singer struggled with his entire life. The intertwining of both sequences around the recount of Glen Sherley, an actual Folsom inmate who met Cash at that time, is pure genius.

The monochrome black and white wash style is straight to the point in this one, creating style without being stylish or overly flashy... Just like the man himself.
PLANET GRIFFIN

definitely concurs with the buzz surrounding this one. The biggest challenge is catching a copy when it hits the shelves. This is

THE BIG BUZZ.