PLANET GRIFFIN

returns with perhaps the most obvious action choice of them all in realm of the

Next Top Ten!

Duplicated and imitated from where it originated almost 17 years ago, the year of

1992

began with the quintessential, balls-out action movie from Hong Kong that literally changed the multimedia landscape forever! Ladies and Gentlemen...

NUMBER 18:

HARD BOILED

Writer/Director

JOHN WOO

is, arguably, the single greatest action director of all time. In the early 90's, Woo began growing extremely incensed over the rampant increase of senseless violence happening in Hong Kong (Perhaps due to the fears of the takeover of 1997). In an effort to create a 'hopeful hero' for the people,

as well as his ultimate embodiment of Clint Eastwood and Steve McQueen, Woo created the now iconic Inspector 'Tequila' Yuen and the God of Guns was born.

Now, considering the fact that this Woo classic is easily touted as

'... one of the most influential and definitely the most memorable action films of all time...'

(that and the fact that this flick boasts a 307 body count), I don't think any explaination of this film is really needed...

PLANET GRIFFIN

can reveal a few new developments in relation to this post...
While Woo is wrapping up the press junket for the yet-to-be-American release of his two part epic

RED CLIFF

, his longtime production partner,

Terence Chang

, has revealed Lion Rock Entertainment's film adaptation of the 2007 PS3 video game,

STRANGLEHOLD

, which in turn was originally meant to be a

sequel

to the 1992 film. Instead,

the film will now be a prequel

starring a younger version of the Tequila Yuen character ( The original sequel, starring Chow Yun Fat and written by John Jarrell, is now inactive.). The tag teaming writers,

Fabrizio and Passmore

, are currently working on the script. Whether John Woo will do more than executive producer duties remain to be seen.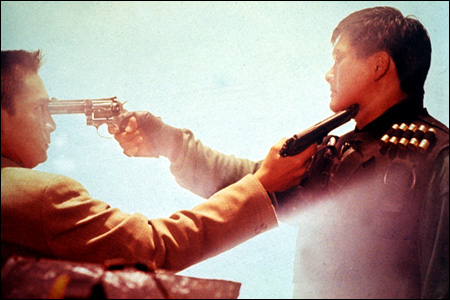 As a comic trade, this title could easily rock any bookshelf with no problem ( the sheer amount of influences within the film itself can be seen in my own 'upcoming' FIERCE CREATURES trade). As the ultimate no-brainer, accept no substitutes! This is PLANET GRIFFIN, y'all...